Our Gourmet Breakfast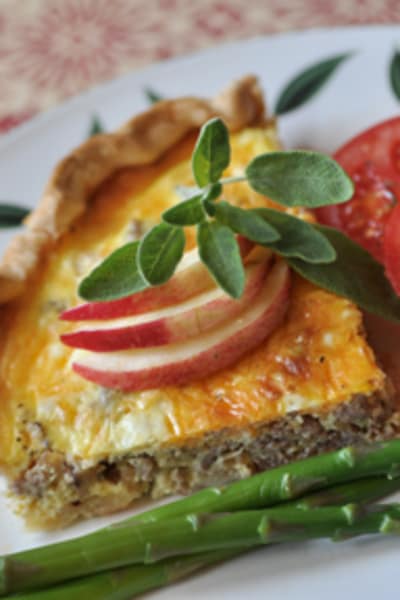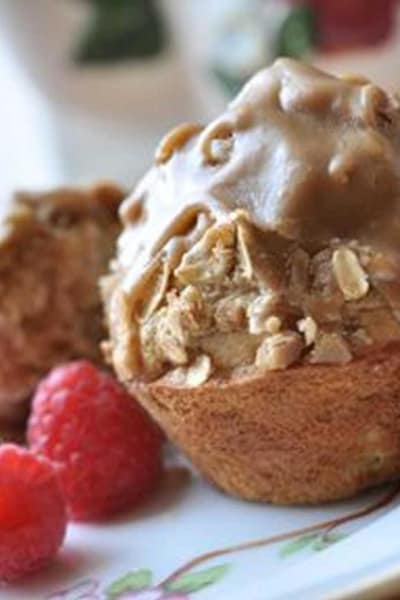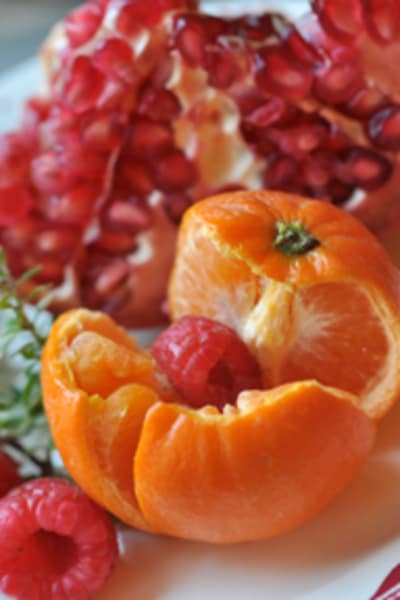 Breakfast—Where & When—The Choice Should Be Yours
We specialize in serving a full homemade breakfast. Using fresh, local, ingredients whenever possible, we offer a variety of dishes and hope to make each meal different and memorable. Life is busy. Often, we don't take the time for breakfast, let alone a leisurely one. So, because you are here, we want to offer you a breakfast experience. Now, there are many ways to experience breakfast at our Inn, all of them delicious.
Breakfast in our beautiful dining room
Breakfast on our quaint covered porch (seasonal)
Breakfast delivered to your room (suite rooms only and always complimentary room service)
The "Grab & Go" Continental (sometimes you just have to be on the run
What's Included
Every breakfast includes juice or smoothie, coffee/tea, fruit (fresh when possible, fruit parfaits, fruit soup), meat, entrée of either an incredible egg dish (e.g., strata, quiche, and egg bake, hearty breakfast casseroles) with a sweet treat (muffin, scone, coffee cake) or fabulous homemade specialty pancakes, thick Belgian waffles of many varieties, baked French toast with scrumptious toppings, or decadent bread puddings. All uniquely different—all delicious.
We believe that when you are away on vacation, you should have the flexibility of breakfast time. So, whether you are an early morning riser, or long to just sleep in, you can rest-assured, we try to work with your preferred breakfast time! Therefore, we don't have specified times for breakfast, but do our best to work with your schedule.
Specialty
Our land was once one of the largest apple orchards and berry farms in the region. So, of course, many of our specialties often include our apples, blackberries, black raspberries, and pears, fresh-picked from our land. The menus will change based on what is seasonally available. To tantalize your taste buds, see a few examples on our "sample menu" page!
Special Diets
If you have special dietary restrictions, please let us know when booking your room so we can do the necessary preparation to accommodate your needs. We have catered to heart-healthy, Vegetarian, Gluten & Lactose-free, and beyond, and enjoy learning and experimenting with new and creative dishes.
Welcome with Wine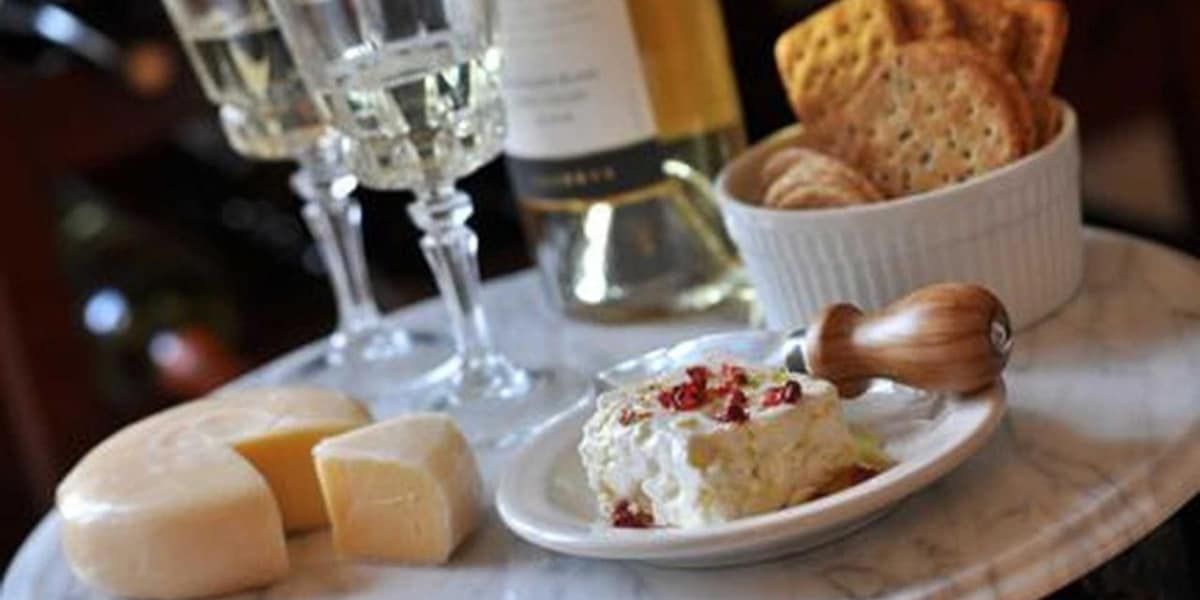 A Toast To Your Getaway
As part of your experience at the Apple Tree Lane B&B, we offer a complimentary glass of wine or other available beverage of choice (e.g., non-alcoholic sparkling cider, soda, etc). On some weekends, we may have appetizers such as cheese & crackers, sliced vegetables and humus, or hot artichoke spinach dip and French bread points, to go with your wine. This is a good time to meet other guests, ask the Innkeepers questions about the Inn or area, and simply enjoy a toast to your getaway! If privacy is more what you desire, we are happy to pour you a beverage of choice that you can enjoy in your room, strolling down to the river, or sitting on the covered porch or garden swing.
Dining Room Buffet Treats
Our guests love the sweet treats often awaiting you on the buffet. Whether it is our specialty Chocolate Chip Plus Dream Cookies, Magic Squares, Almond Cream-Cheese Bars, or a slice of Pistachio Bread, we are sure to satisfy your sweet tooth—whether you are coming or going. Of course, grab a beverage from our Keurig bar to go with it!
Beverage Center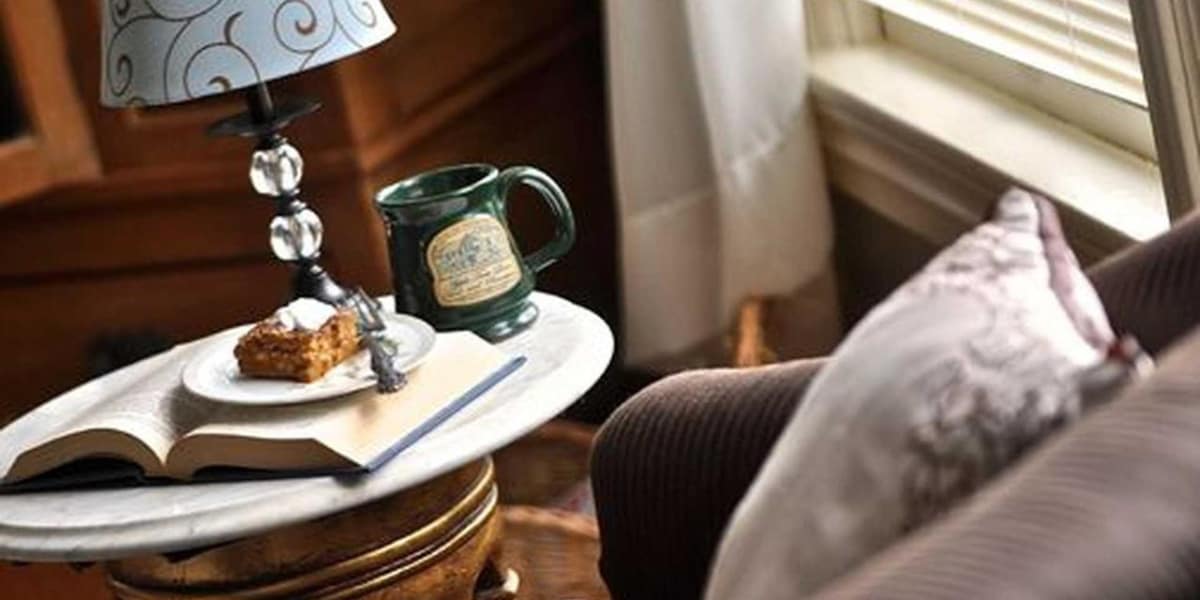 Cozy Up with a Warm Drink on a Chilly Morning
Let's Start With Coffee/Tea/Hot Chocolate/Hot Apple Cider

Awake to the aroma of freshly brewed coffee. Our hand-thrown pottery logo mugs (they are for sale in our gift shop too!) are waiting for you on our warming tray (seasonal), helping ensure warm hands and a hot cup of coffee! For those of you who like flavored coffee, we have three Starbuck syrups to choose from, including sugar-free.
Not a coffee drinker? Then grab a hot cup of tea from our assortment or a cup of hot chocolate. Of course, the guest refrigerator in the dining room is always stocked with water or sodas, if that is more to your liking. Fresh-brewed sun tea is often set out during the summer months or just ask!
If you are up earlier than we are (which is unusual, but does happen!), or of you want hot beverages at any other time of the day, the beverage center and Keurig machine is there for your use 24/7. Help yourself! If you want to bring something special (e.g., a special soda, or favorite bottle of wine, for example) there is usually room in the guest refrigerator for your convenience.
Recipes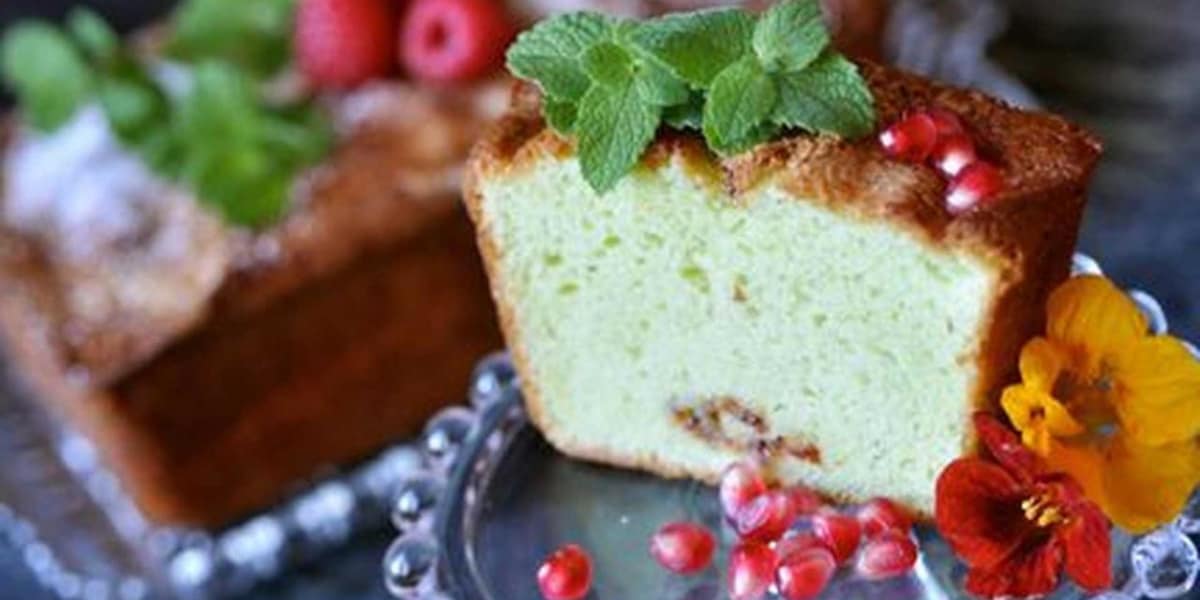 Banana Split Bread
Ingredients:
½ cup butter, softened
1 cup sugar
1 lg. egg
1 cup ripe bananas, mashed (about 2 lg. bananas)
3 T milk
2 cups flour
1 t baking powder
½ t baking soda
¾ t salt
1 cup semi-sweet chocolate chips (I like using the mini)
½ cup chopped pecans (walnuts good too
Instructions:
In lg. mixing bowl, cream butter, sugar, and egg with electric mixer. Beat until fluffy, about 3 minutes. Set aside.
In sm. Bowl, mix bananas & milk. Set aside. Sift together flour, baking powder, baking soda, and salt.
Alternately add dry ingredients and banana mixture to creamed butter mixture, stirring after each addition until dry ingredients are blended. Stir in chips and nuts.
Spoon into one 9x5-inch or two 7 1/2x3 1/2-inch loaf pans that have been greased & floured. Bake 50-60 minutes in 350 degree oven. Cool in pan on wire rack 10 minutes before removing. Finish cooling on wire rack.

Blueberry Croissant Puff
Ingredients:
6-7 small croissants or 3-4 large croissants, broken into small pieces
1 ½ cups fresh or frozen blueberries
1 8oz cream cheese, softened
1 tsp. vanilla
2/3 cup sugar
2 eggs
1 ¼ cup milk
Instructions:
Place croissant pieces, evenly in a 9 inch baking dish (I use round pie plate), lightly sprayed with cooking spray.
Sprinkle berries over the pieces, evenly.
Beat cream cheese & sugar well. Add eggs, vanilla and milk. Pour evenly over the croissants and let stand 20 minutes.
Bake at 350 degrees for approximately 45-55 minutes or until set in center and golden brown. Serve warm dusted with powdered sugar.

Hummingbird Cake
Ingredients:
3 cups all-purpose flour
2 cups white sugar
1 teaspoon baking soda
1 teaspoon salt
1 teaspoon ground cinnamon
3 eggs, lightly beaten
2 teaspoons vanilla extract
1 1/2 cups oil
1 (8 oz.) can crushed pineapple-do not drain
2 cups bananas, mashed, about 3-4 large bananas
1 cup pecans or walnuts chopped

Ingredients:
Combine the flour, sugar, baking soda, salt, cinnamon.
Mix together with whisk. Add eggs, vanilla extract, oil, pineapple, bananas, and nuts. Mix all until moistened.
Spray 3 (9 inch) round cake pans or one 9x13 inch pan. Bake in preheated 350 degree oven 30-35 minutes until cake is done in center. Frost with Pecan Cream Cheese Frosting!
A perfect welcome or special occassion treat!
Pecan Cream Cheese Frosting:
1/4 cup unsalted butter, room temperature
8 oz. cream cheese, room temperature
1 lb. box or about 3 2/3 cups confectioners sugar, sifted
1 teaspoon pure vanilla extract
1/2 cup finely chopped pecans