The Inn
Welcome to Apple Tree Lane Bed & Breakfast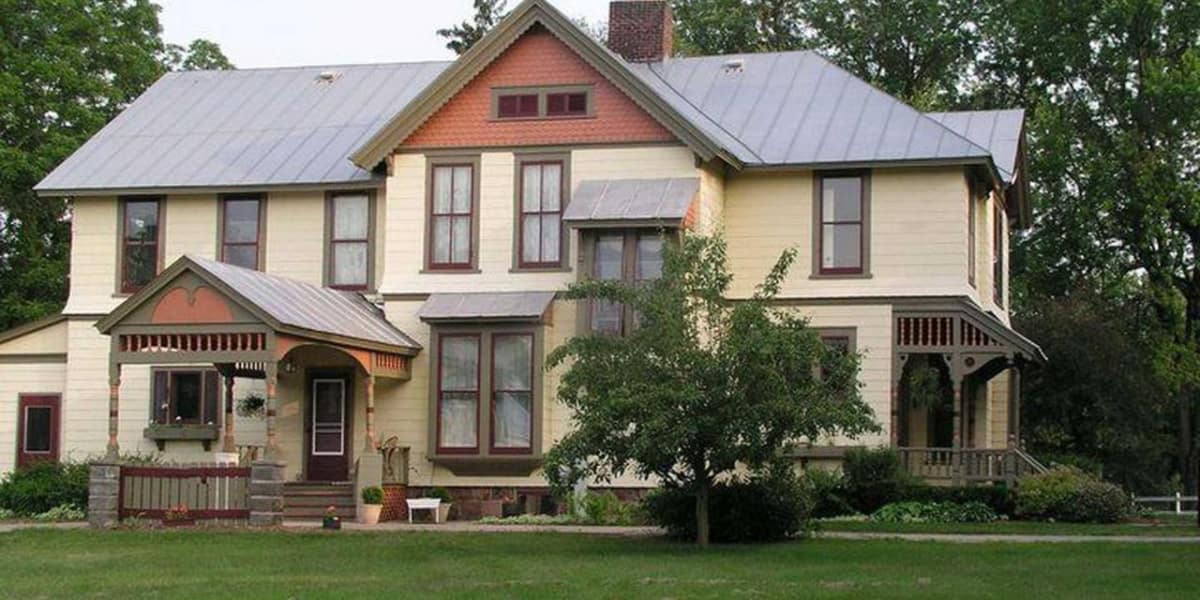 Step onto the front porch of our Waupaca, Wisconsin Bed and Breakfast, located in a beautifully updated 1880's Victorian farmhouse, and peer through the original double-glass doors, etched with the historic name "Crystal River Farms", reminding all who enter of the home's rich history.
The House, The Land, The River~ A Very Special Place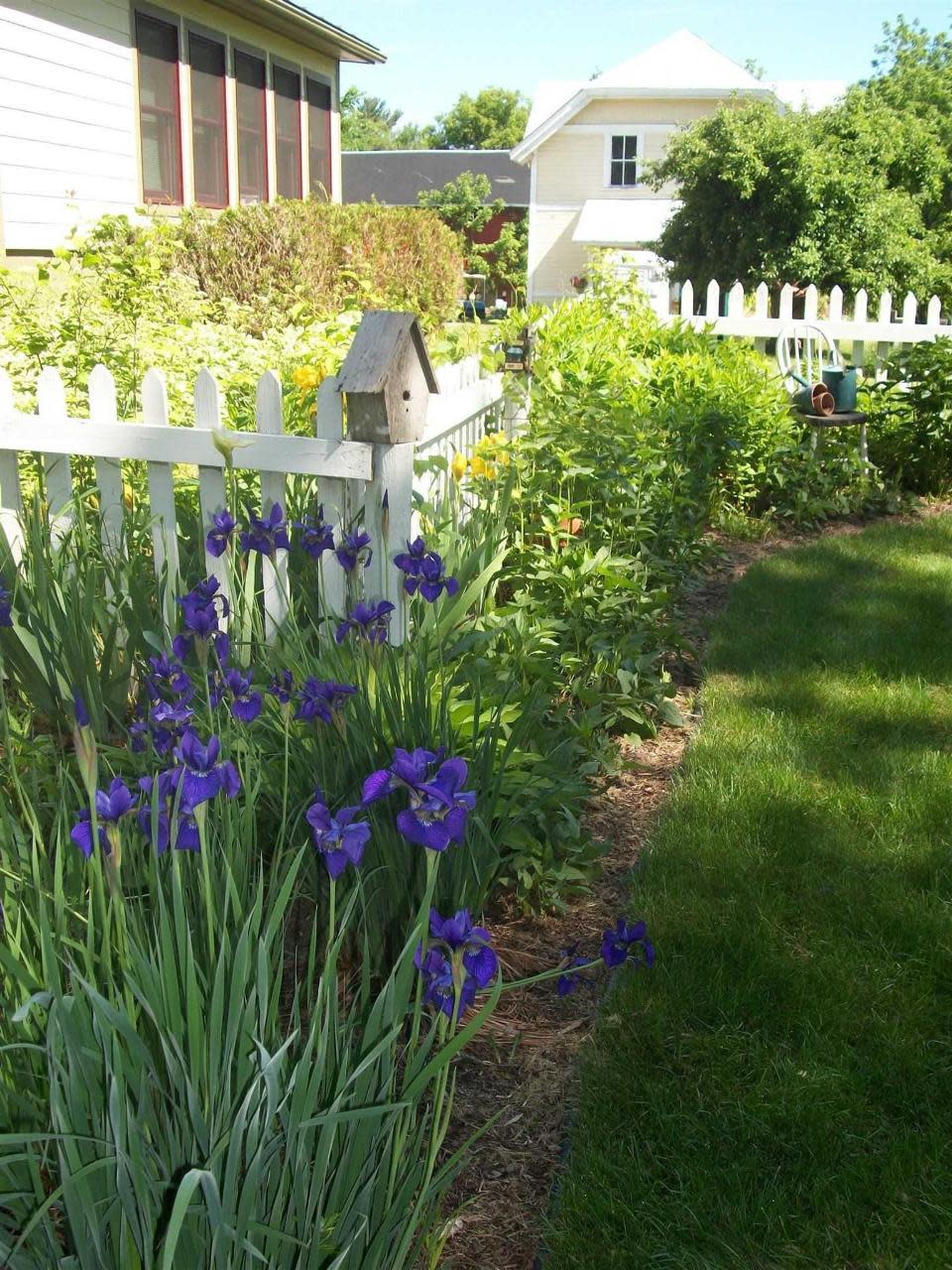 Enter the spacious & welcoming foyer with wood flooring, 11-foot ceilings and an impressive walnut staircase winding to the restful guestrooms. The beautiful parlor, with pretty bay windows, sits off the foyer and has huge pocket doors that lead to the lively Orchard Room. It is the perfect gathering space. The cozy wood stove frames an ornate antique mirrored mantle and invites you to sit a spell around her warmth and cozy up to read, or catch a game on the Inn's big screen TV.
The many Inn's common areas are to be used and enjoyed!
You can step outside on the large covered porch and enjoy the glider, lounge chairs or bistro table and chairs while overlooking the perennial gardens.
Then enjoy a leisurely walk and stroll past the historic coach house, chicken coop, and barn to the Crystal River, pond and trickling streams growing fresh watercress!
Meander across a footbridge to a private island spot, where fish are ready to be caught and deer frolic in the woods! As you explore the grounds, picture how beautiful a country inn wedding would be. We already offer a wide array of travel retreats and it would be our pleasure to host such a special event.
A complimentary glass of wine or soft drink is offered at check-in and we are happy to help you at that time to learn more about the area, and hear recommendations of what and where to go as you plan your next day's activities in the Waupaca, WI area! In the morning, awake to the aroma of freshly brewed coffee and tea. Enjoy in the Parlor, or on the covered porch, while awaiting a delicious breakfast served in the dining room.
Breakfast in your room (suite rooms only), on the covered porch or on the go is also available by request. We are happy to accommodate special dietary requests; please notify us upon reservation. It is only fitting for the Apple Tree Lane Bed & Breakfast to have the house specialty be apple pecan baked oven pancakes and apple strudel muffins. The creme brulee french toast and the banana split bread rival for the favorites of the house, however! A small guest refrigerator is filled with complimentary beverages, and there is a small microwave (perfect for popcorn to have for your movie?!) The coffee bar with Keurig machine and electric tea kettle is ready 24/7 for your favorite beverage. You also just might find delicious goodies waiting for you on the buffet.
Eco—Friendly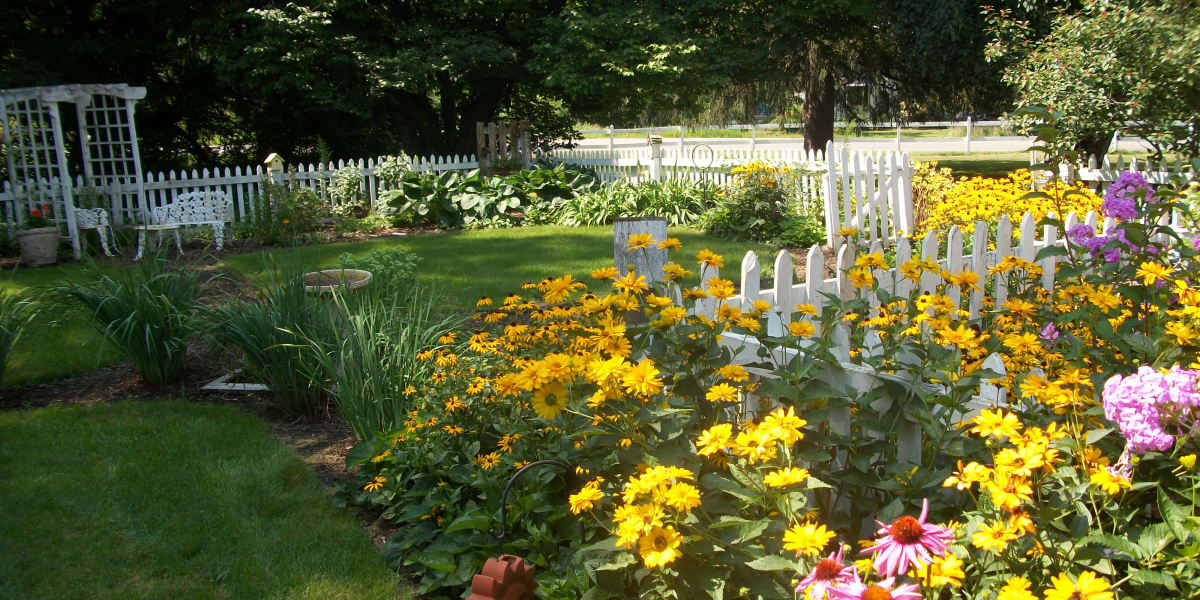 We are Travel Green Wisconsin Certified
The Apple Tree Lane Bed & Breakfast is proud to support and be certified as a Travel Green Wisconsin business.
We believe that it is our responsibility to be good stewards of the resources the earth provides for our use.
We continue to look for ways to do our part in protecting our valuable and limited natural resources and leave a low carbon footprint.
Currently we practice a variety of energy and water efficiencies, waste reduction, use of eco-amenities & non-toxic cleaning supplies, linen & towel reuse program, composting, recycling, the commitment to buy local when possible and more.
We all need to find small and big ways to help protect our world!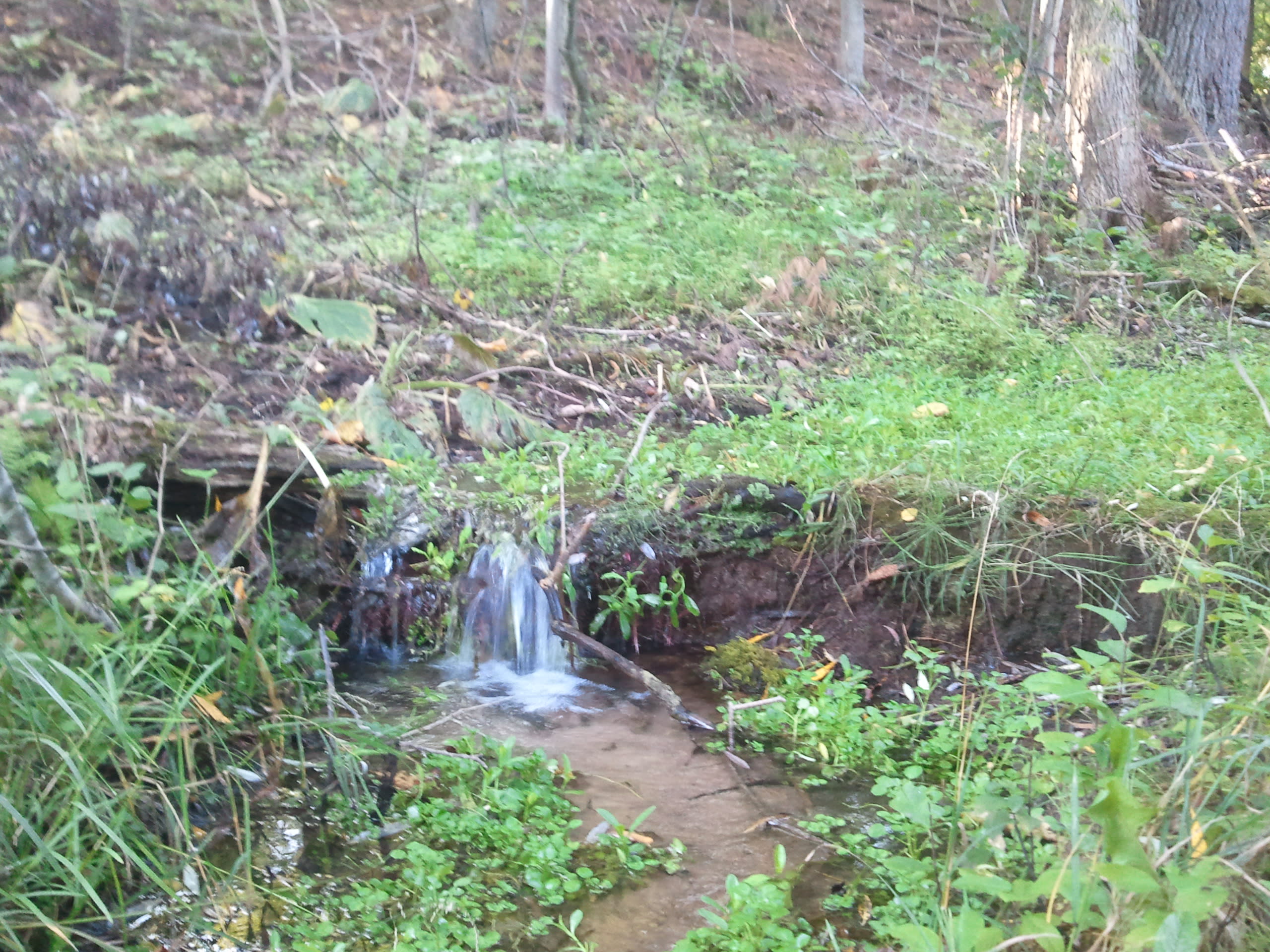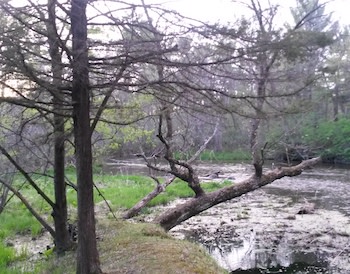 Video Tours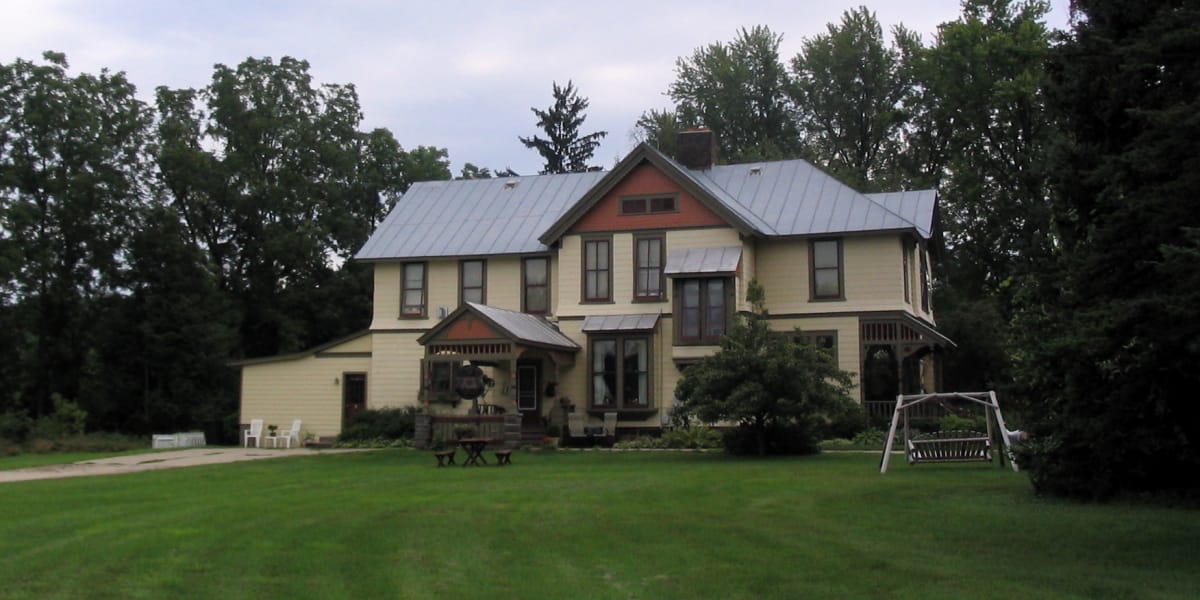 Click play below to see a video tour of our Inn:
For a video of Apple Tree Lane Bed & Breakfast in the fall, done by one of our guests, click HERE
Meet the Innkeepers
Meet Kerri & Mike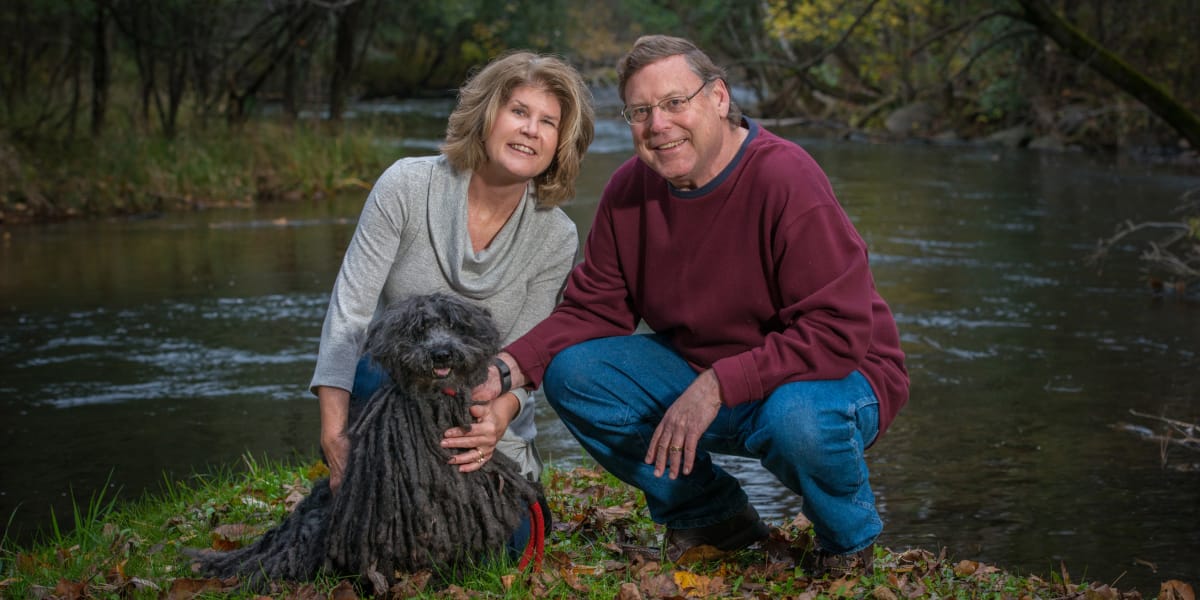 Mike and Kerri love to welcome guests to their historic homestead and hope that you find it as special of a place as they have! But besides "working" to make the Inn warm, welcoming, and comfortable, who are your Innkeepers and what else are they all about?!
Let's start with Mike. Although he prides himself on being the chief lightbulb changer, and head quality control expert of the Inn ("Kerri, why aren't the bottled waters stocked in the guest refrigerator, and it looks like we need more wood stacked for the fireplace..." etc.), Mike's full-time profession is an accountant. He is an entrepreneur and has owned and operated, Michael R. Thiel, CPA for over 25 years. He has offices both in Waupaca and in his hometown of Beaver Dam.
Although he can "talk numbers" better than anyone I have met, you can always look forward to lively conversation on his other interests of sports (of all kind including Indy Car Racing), music (especially rock & roll of the 70's--ask to see his extensive album collection), radio, his alma mater of UW LaCrosse, festivals, and Puli dogs, in particular.
Kerri is an outdoor enthusiast and her passion is being outside as much as possible and enjoying nature in all seasons. In between taking care of the Inn's 7.5 acres and river frontage (she really does love to mow, rake, shovel, garden, etc. etc. etc.), she will find the time to bike the Waupaca County countryside, swim the lakes (her favorite is Shadow Lake which is a short bike ride from the Inn and is where the Waupaca Triathlon is held), kayaking, snowshoeing, or just hiking the area and the trails at Hartman Creek State Park and beyond.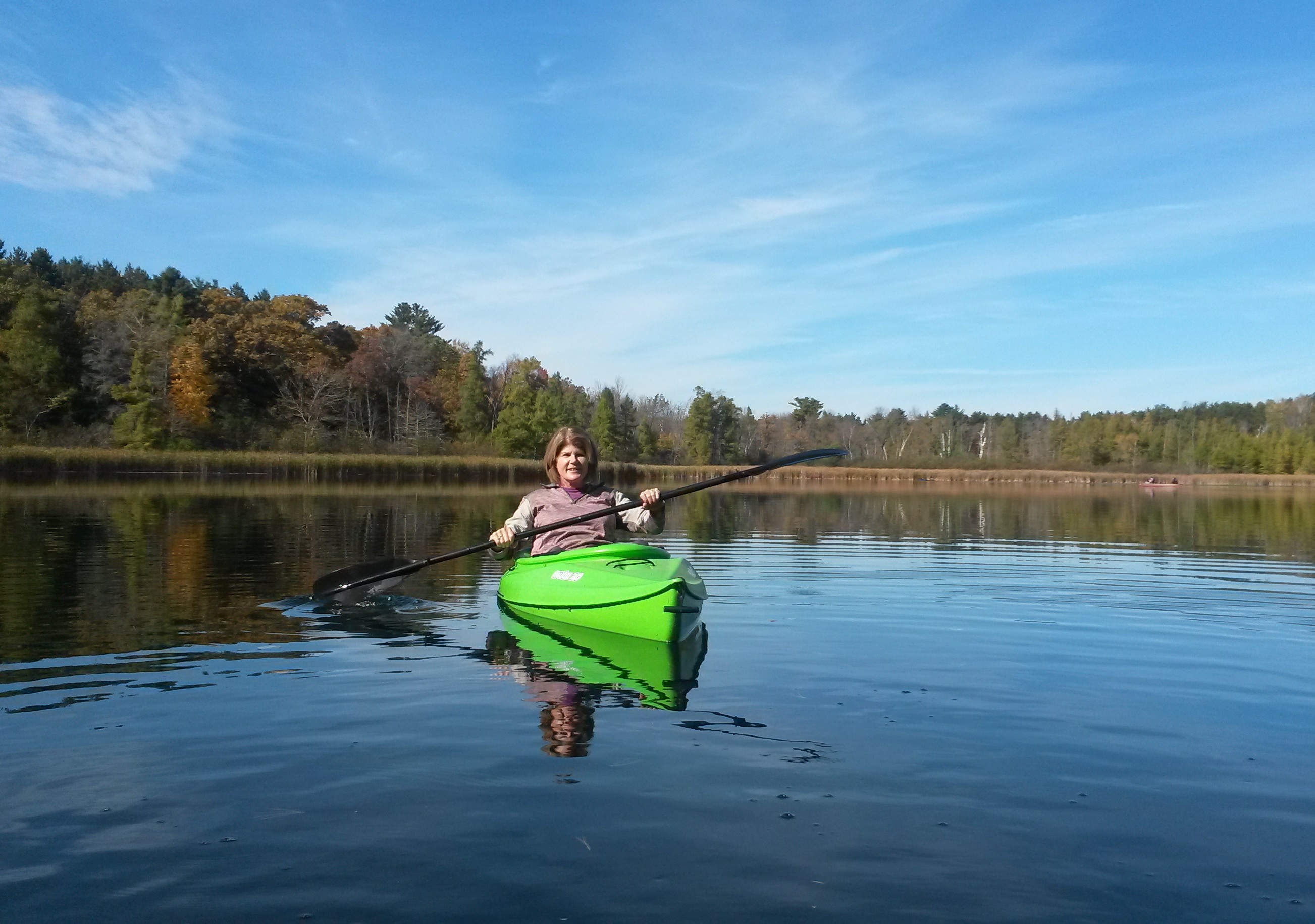 A graduate of Arizona State University with a degree in Business, Kerri spent most of her career in corporate sales and marketing. Through her many travels, she appreciates the needs and expectations of the traveler, and strives to create a balance of privacy and hospitality for her guests.
Kerri also enjoys cooking, interior design, reading, traveling, and growing in her faith.
Kerri and Mike have three grown children, who they are so very proud of, living in Jefferson, IA, Whitefish Bay, WI, and Wichita Falls, TX. We are also proud grandparents of five beautiful granddaughters, Avery, Zoey,Charlie, Andi, and Annabelle and one grandson, Easton!
Our History
Apple Tree Land Bed & Breakfast History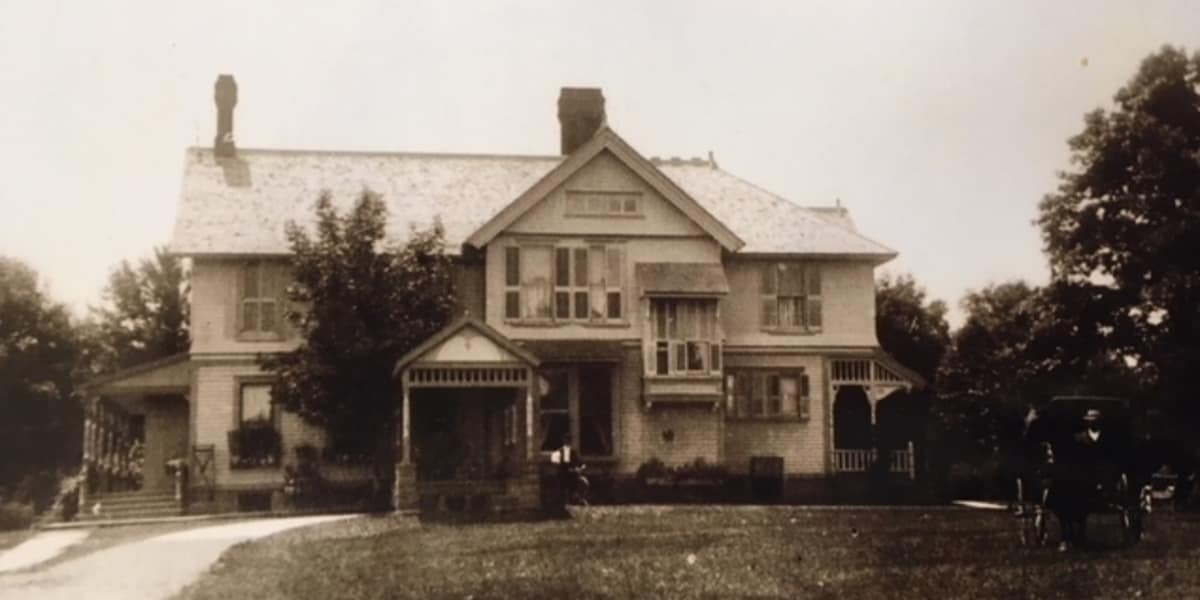 The historic Victorian farmhouse that is now our Wisconsin Bed and Breakfast Inn was built in the early 1880's by Charles Judson Churchill and his wife, Ann Elizabeth (Walker) Churchill, and was known as Churchill Farms. Throughout his career, Charles held various government positions, while Ann raised their six children, was vice president of the Woman's Relief Corps and was well known for her lovely gardens. In fact, the property originally boasted a wonderful, large glass greenhouse. Although only pictures remain of the greenhouse today (come see the wall of history in the Orchard Room), the old stone foundation of the attached icehouse remains on the property.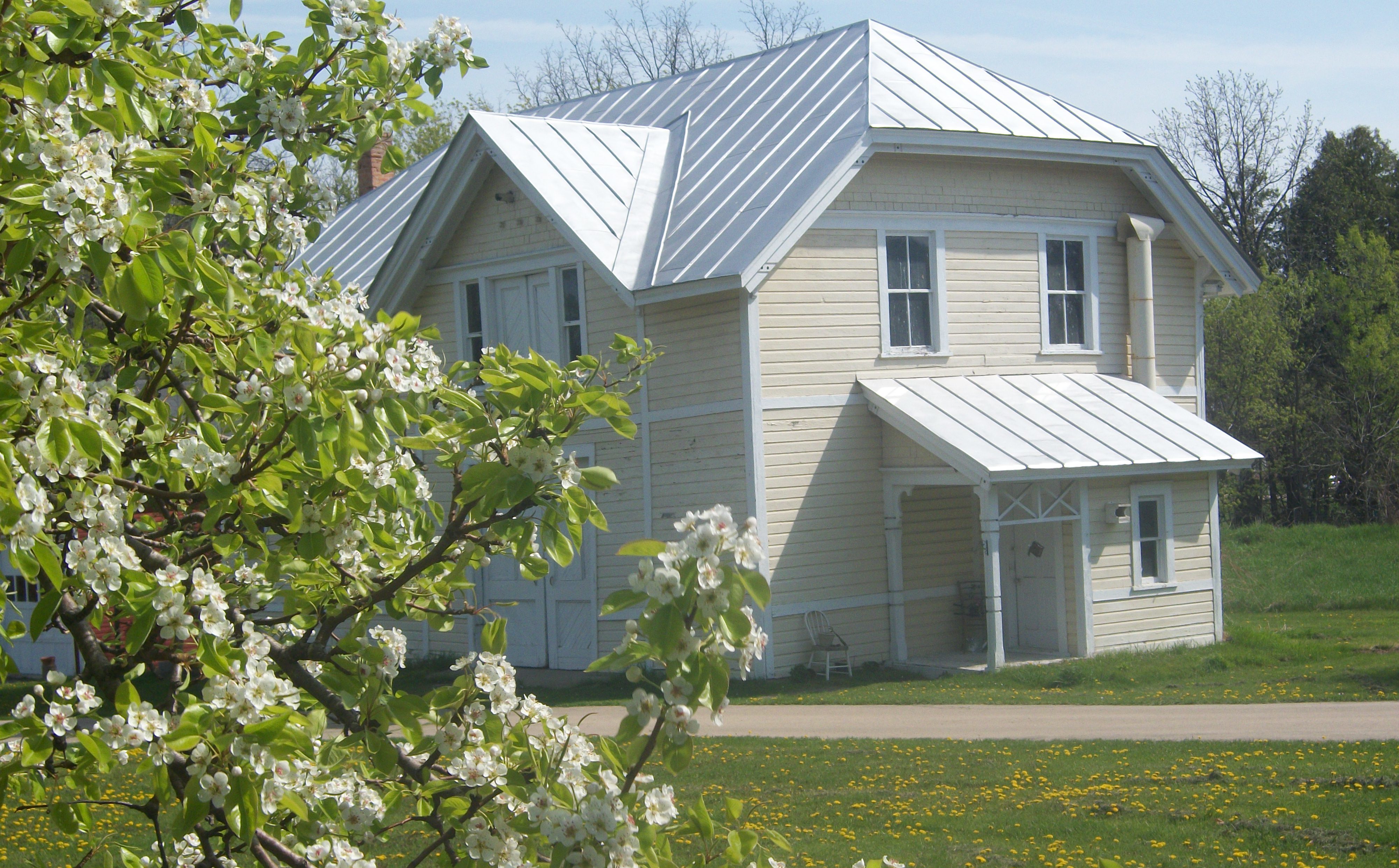 Around 1919, the Pennebecker family purchased the property and for decades owned and operated the farm, which was one of the largest apple orchards in the region. The apple orchards are full of history and fragrance for the Inn, including the Wolf River Apple Tree--the tree is well over 100 years old and the patriarch of the orchard. Although damaged from wind and storms, it still produces huge apples--perfect for baking the Bed & Breakfast feasts!
Only four other owners occupied this home, until Mike & Kerri Thiel purchased this historic homestead in 2006. It was a private residence, so their heart and soul went into turning it into a Bed & Breakfast. A lot of work, in a short amount of time happened in 2006, as the doors opened in July. The Thiel's invite you to experience this warm and welcoming place for your enjoyment.

Our Common Areas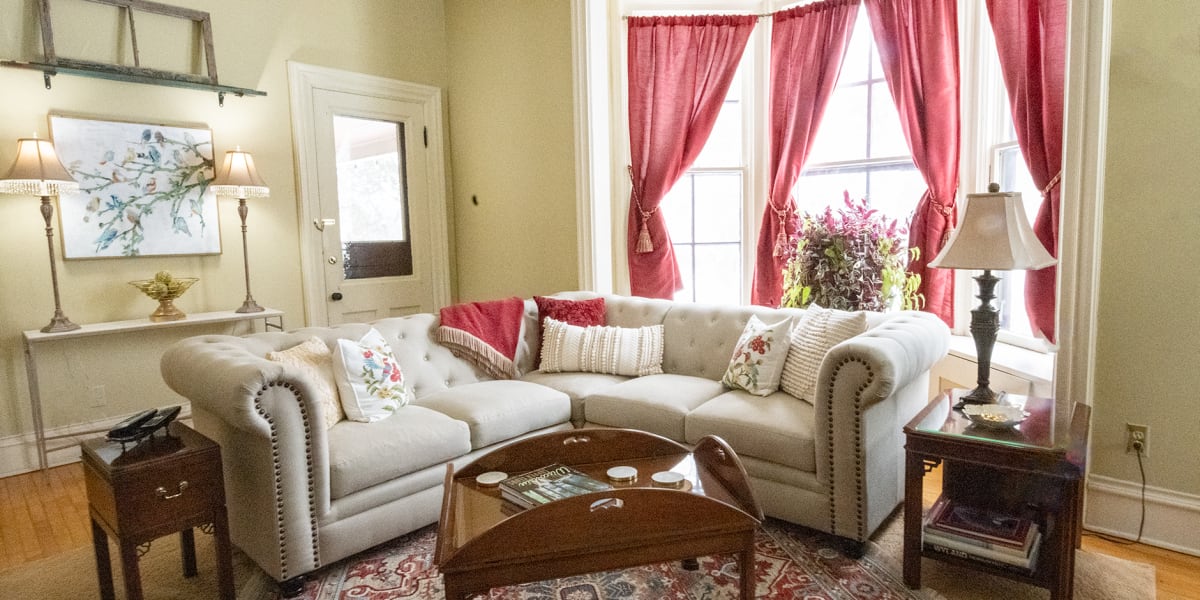 Orchard Room
Large pocket doors lead to the Orchard Room and is another gathering place at the Inn. The doors can be open or closed for privacy. Lots of comfortable seating, ottoman to put your feet up, big screen HD TV, and cozy wood-burning stove make this room the place to relax. Play a game, read a book or watch a game or movie on the big screen (ask the Innkeeper for a box of popcorn! ).
Covered Porch & Gardens
Off the Orchard Room is the door leading to the quaint-covered porch (seasonal). There is a glider, table & chairs, and wicker lounge chairs to enjoy while looking out toward the white picket fenced garden and into the apple orchard. You will enjoy many birds too with a "Birds of Wisconsin" book on the porch to serve as your guide. You may spot a deer or two also. Enjoy an iced tea and game of cards out here.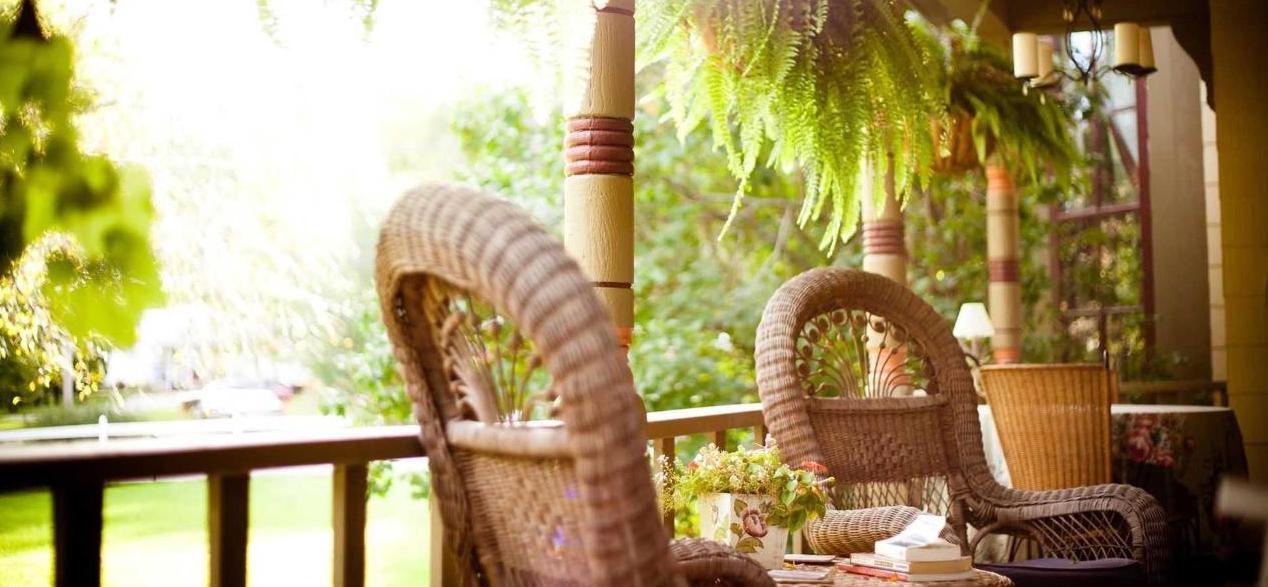 Welcoming Entry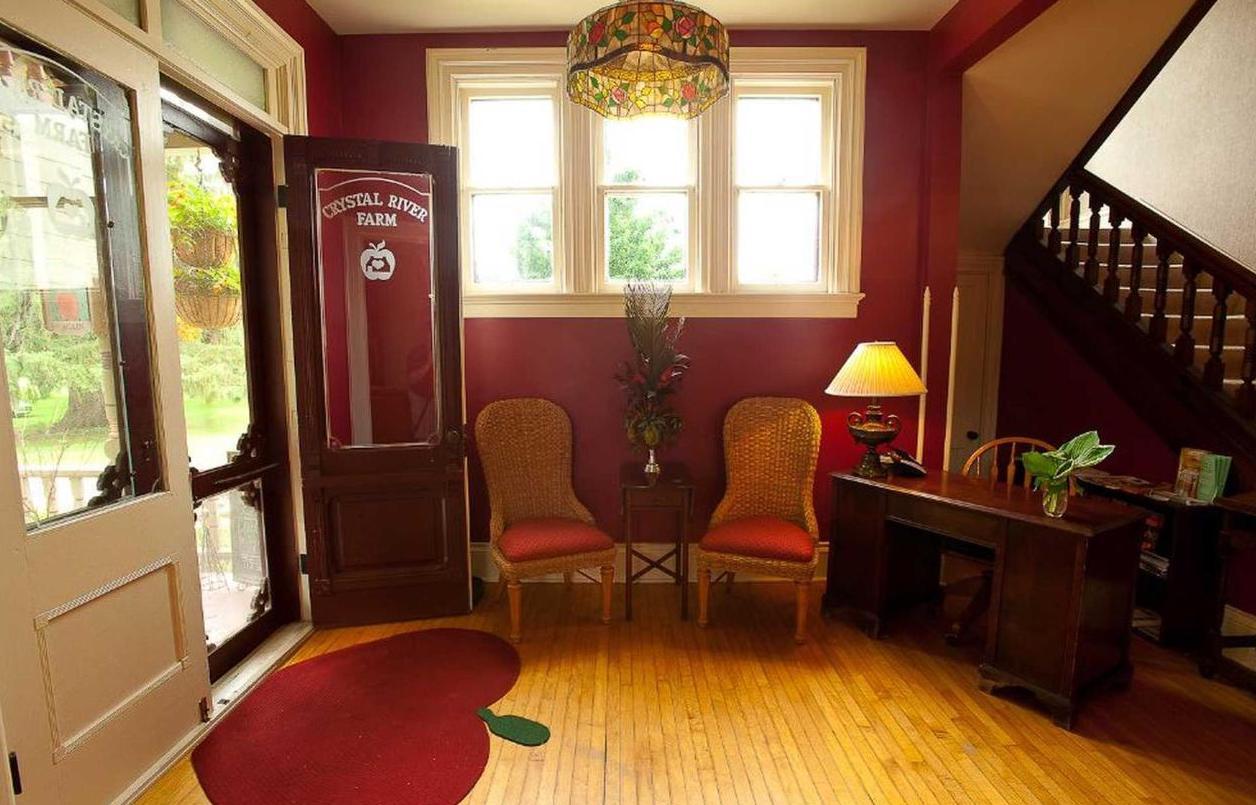 Parlor
The Parlor is a favorite reading spot for many, with its large leather couch and oversized chair, with views out a large, sunny, window. This is where people really seem to enjoy sitting with their coffee before breakfast and plan out their day. This is also where a glass of wine is often shared.

Dining Room
The Dining Room is where you will often find tasty treats on the buffet, cold beverages in the guest refrigerator, tea kettle, and Keurig hot beverage bar, available 24/7. And of course, the favorite option spot for breakfast in the morning.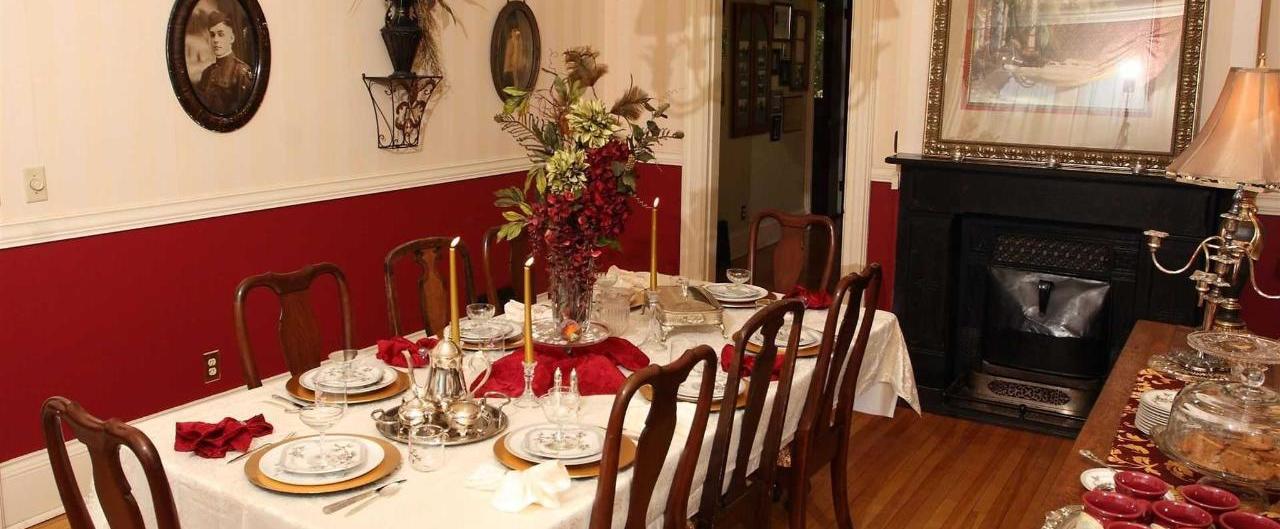 River & Land
And of course, the 7.5 acres and 400 ft. of Crystal River frontage, gives you plenty of space to explore.

What guests have said, time and time again, is how wonderfully the Inn is set up to enjoy the common areas. Yes, there are those who want nothing more than to cozy up in their rooms, and not leave. That is the comfort and privacy we offer too. However, many times, couples, group of friends, "you alone" escaping for a much-needed getaway, a person here on business, or an entire family reunion taking over the Inn, want to spread out and enjoy alone time, or each others company, comfortably, in places outside of just their guest rooms.
This is not a B&B where the common area seems to be more of a "holding" place to wait to eat breakfast. As nice as that B&B may be, there may be little warmth, welcoming, or comfortable in the space. Or, common areas that are always shared by the Innkeepers, because it is their only living space too. I know when we traveled personally, we felt as if we might be intruding. Not at the Apple Tree Lane B&B.
Come and enjoy all that the Inn offers! We look forward to your stay!